Driven by the mass production of large displays and wearable devices, market research firm TrendForce estimates that the output value of Micro LED chips will reach $27 million in 2023, an annual growth of 92%. The scale of existing application shipments has been enlarged, and new applications have gradually stimulated the market. In 2027, the output value of MicroLED chips was approximately $580 million, with a compound growth rate (CAGR) of approximately 136% from 2022 to 2027.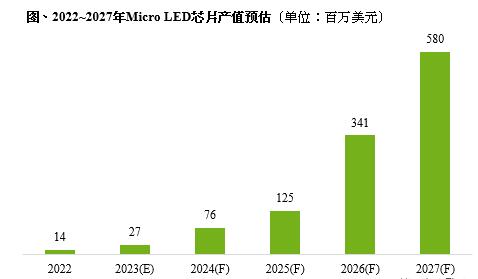 TrendForce predicts that in addition to the steady increase in chip output value, related industries such as transfer and testing equipment, glass and CMOS backplanes, and active and passive drive ICs will also grow simultaneously.
TrendForce pointed out that in addition to officially launching the 89 inch 4K large display this year, Samsung will also use the advantage of Micro LED large-scale seamless splicing to launch 101 inch and 114 inch products in the future. The LG 136 inch 4K product is expected to be mass-produced by the end of 2023. BOE is also planning similar products, and has successfully launched a P0.9 glass based MLED display screen in the second quarter of this year. It also plans to launch a P0.51 active drive display screen in the fourth quarter.
Market research firm Omdia predicts that the global output value of Micro LED panels will reach 796 million US dollars by 2026.
Micro LEDs generally refer to individual sizes less than 50 μ The LED array of m is one of the most cutting-edge display technologies in the world today. Compared to LCD and OLED, Micro LEDs have many advantages, such as high efficiency, good weather resistance, long lifespan, high resolution, and simple structure. The market is currently moving towards the industrialization process of Micro LED development, and the industrial explosion period is approaching.